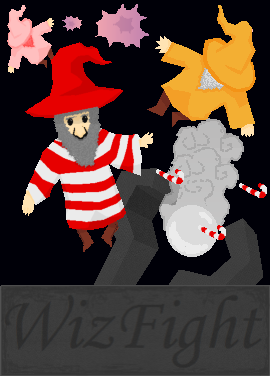 WizFight
A downloadable game for Windows and macOS
A game about dueling wizards and not really caring that all you can do is freeze the level while that other guy can draw lightning bolts from the sky.
WizFight is a high speed deathmatch game featuring over 25 wizards, each with a unique and devastating power. The game is played in small, side-scrolling arenas with 2-4 players in a variety of modes including classic deathmatch, king of the hill, and horde modes that hearkens back to the days when people gathered around one TV to play games together.
As of January 19th, 2018, the full version of the game is free, but, for the time being, the last version of the game to be released is only available on Windows. It is also now open source. You can find the source code here.
Bugs? Issues? Concerns? Praise? Hate mail? Email me.
Features (All versions):
High speed multiplayer deathmatch gameplay.
Over 30 unique wizards, each with their own unique power.
Four different gameplay modes, including classic deathmatch and king of the hill.
Eight arenas.
Support for Xbox 360 gamepads.
Support for custom levels, each with their own tilesets and music.
Features (Windows only):
A single-player/co-op mode.
Moddable monsters for the aforementioned single-player/co-op mode.
Six more wizards, including the mimic wizard, who randomly mimics other wizards' powers, and the thief wizard, who steals the power of whoever he killed last!
Download
Click download now to get access to the following files:
wizfight21-mac.zip
121 MB